The Orkney Survey

The disperse nature of the islands of Orkney and their lack of comparable rivers must have required a somewhat different approach. With many islands, he probably followed the coastline. However, numerous place names recorded for non-maritime districts particularly of the Orkney Mainland clearly indicate that he penetrated beyond the coastal regions. Overall, Pont raised the number of locations recorded on maps of Orkney from the 30 to 60 or so of the earlier maps to over 400 on those derived from his survey.

Although the maps of Orkney based on Pont's survey are an important improvement on previous attempts, two major flaws are readily apparent. The area of high ground in the north west of the Orkney mainland was largely omitted resulting in a gross distortion of this region and the Outer North Isles were incorrectly aligned.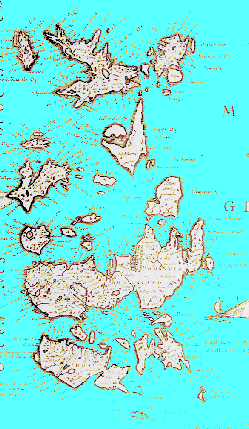 The "Pont Maps"


Timothy Pont's survey of Orkney in the late 1580's or early 1590's formed the basis for a major improvement in the maps of Orkney. Despite this, the results of his survey did not become available in print until Henricus Hondius published his map of Orkney and Shetland in the Mercator – Hondius atlas of 1636.

Recognition of maps derived from the survey by Pont is relatively straightforward because they show a characteristic rotation of the Outer North Isles of Orkney.

Pont's Survey Technique


Pont's survey methods have been extensively researched but remain a matter for speculation (Cunningham, 2001; 2). It seems probable that his manuscript maps of mainland Scotland were based on records of journeys along the major water courses of an area. These were then integrated into a map of the area based on his understanding of the relationships between its river systems.


2. Cunningham, I.C. (2001) The Nation Survey'd. Tuckwell Press, East Linton.